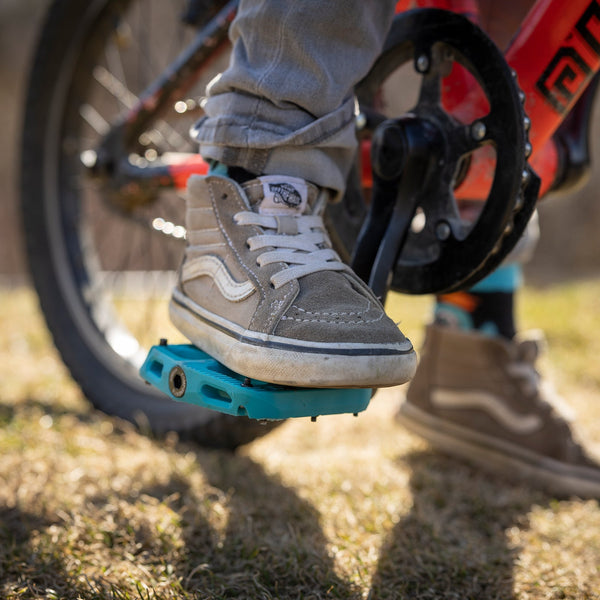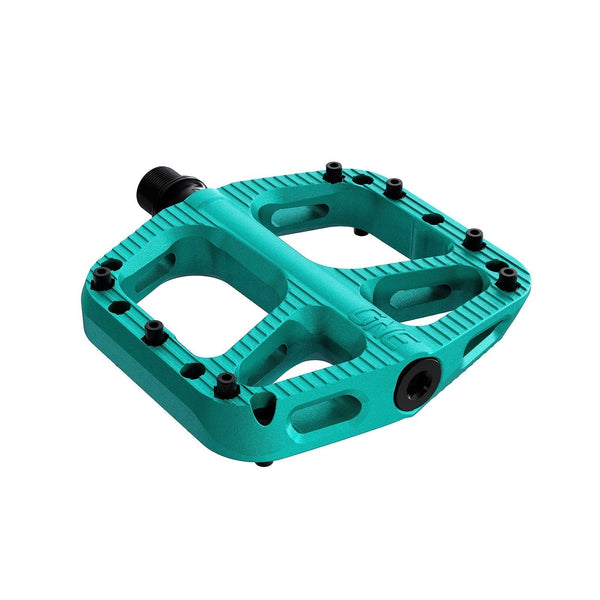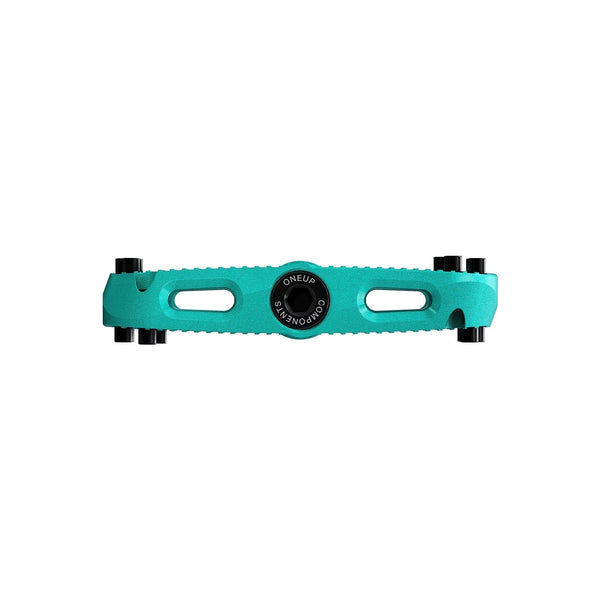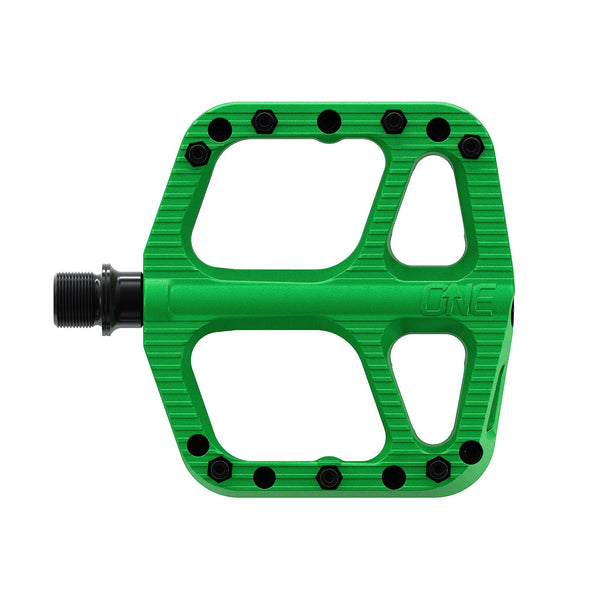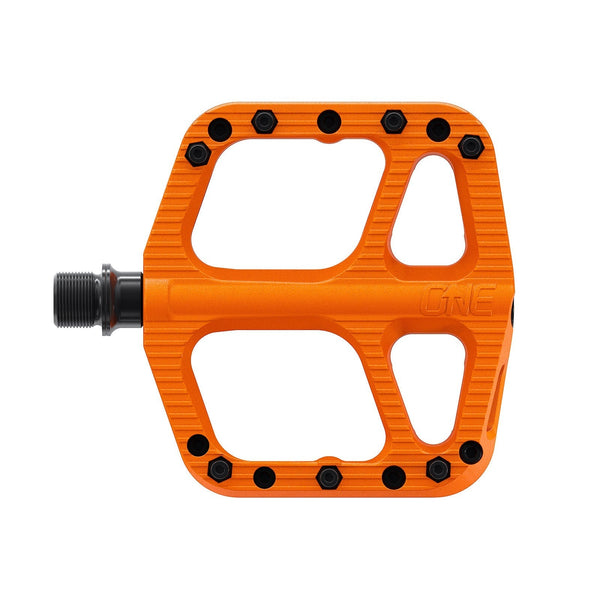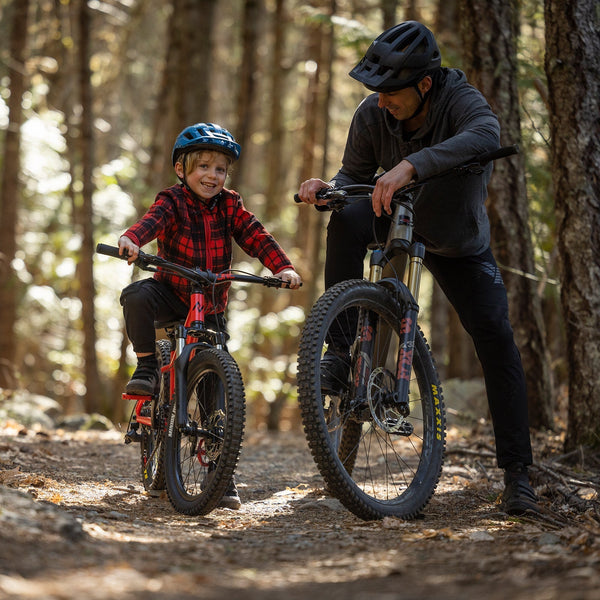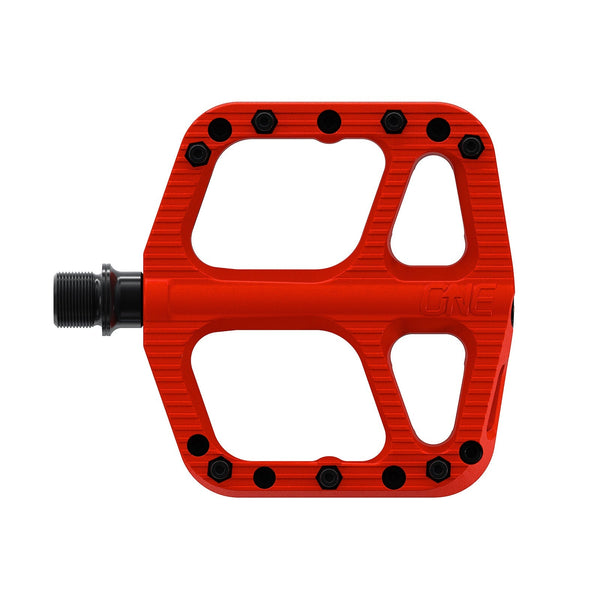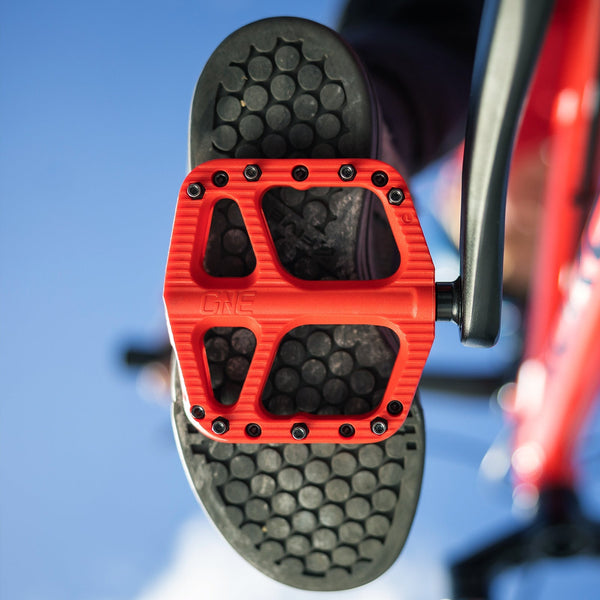 Thin & Convex.
The ultra-thin, subtly convex profile gives you more grip by letting the pedals sit in the natural arch of your foot and drastically reduces pedal strikes.
Pedals that Fit your Feet.
The smaller 97.5mm x 92mm platform has 7 pins per side is a perfect fit for shoe sizes Up to US 6.5 US (M), 8 US (W), 6 US (Kids), and 38 EU.
Lightweight.
At only 330g, the Small Composite Pedals are the lightest pedals we make. They won't weigh you down. And their durable design won't let you down, either.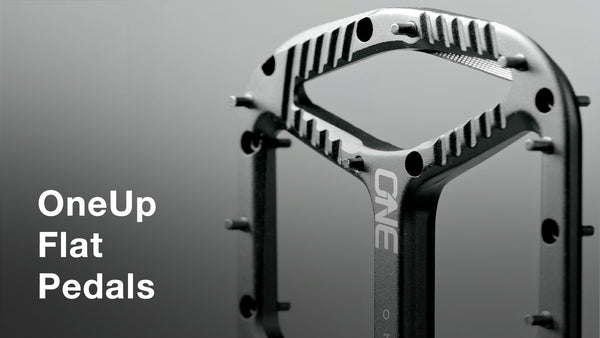 What is the Oneup Components Small Composite Pedal?

The Oneup Components Small Composite Pedal is a lightweight and durable platform pedal designed for mountain biking. It features a slim profile and a slightly convex platform and it's designed to fit shoe sizes Up to US 6.5 US (M), 8 US (W), 6 US (Kids), and 38 EU.
What are the friendly nuts?

The Friendly Pin is a smooth steel nut that covers a regular threaded pedal pin (the same pins found on our full size Composite Pedal). For more grip, you can replace the Friendly Pin with the shorter nut provided, which leaves the threaded pin exposed. More experienced riders with smaller feet may want to run the threaded pins right away.
What size foot and/or shoe fits these pedals?

The Small Composite Pedal was designed for riders with smaller feet. We recommend the small composite pedal for shoe sizes Up to US 6.5 US (M), 8 US (W), 6 US (Kids), and 38 EU. For bigger shoe sizes, we recommend that you use the larger sized Composite Pedal.
What materials are used to make the Oneup Components Small Composite Pedal?

The pedal is made from Nylon Composite (advanced plastics) and feature a steel axle and stainless steel pins.
How much does the Oneup Components Composite Pedal weigh?

The pedal weighs in at only 330 grams (pair), making it one of the lightest pedals on the market.
Does the color of the pedals match the color of the grips and other items you have?

Yes, the small composite pedals and grips are color matched. It is important to note that, due to the coloring processes during manufacturing, the colors of the composite and rubber products will not perfectly match any of our Metal anodized products.
Do these come as a set or do I need to order two?

All OneUp pedals comes as a set, one left side pedal and one right side pedal.
How regularly should I service these pedals?

It is recommended to service your pedals a minimum of once a year. If you ride more than 3 days a week then more regular servicing is ideal.