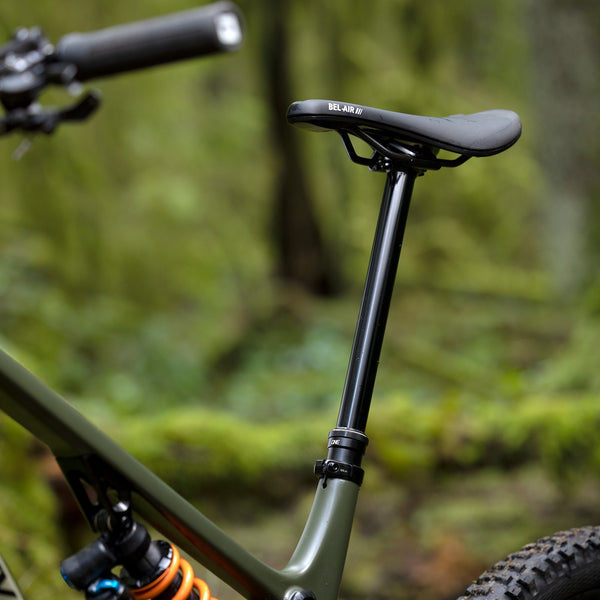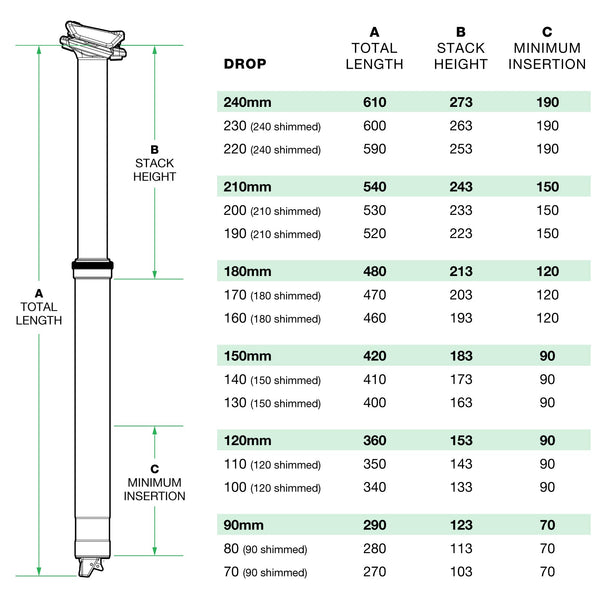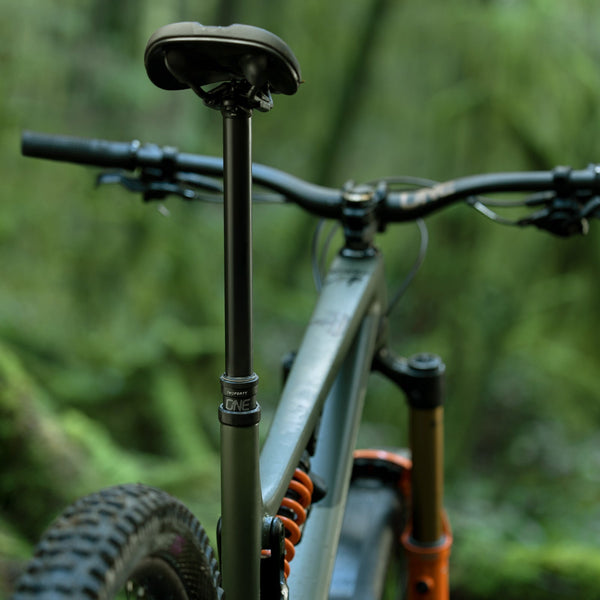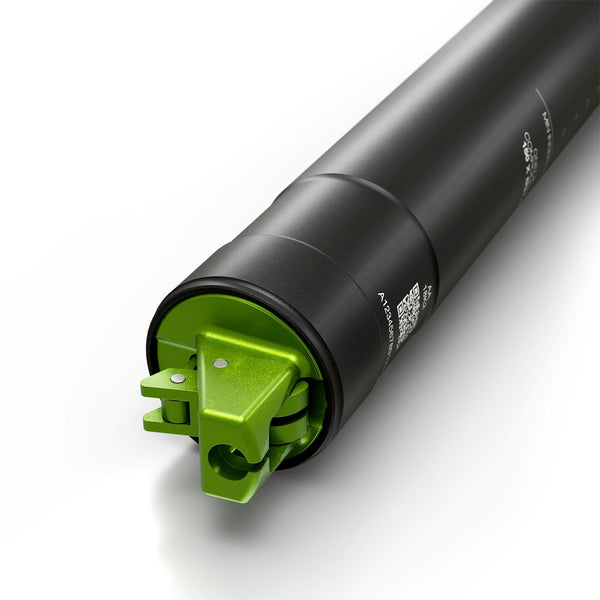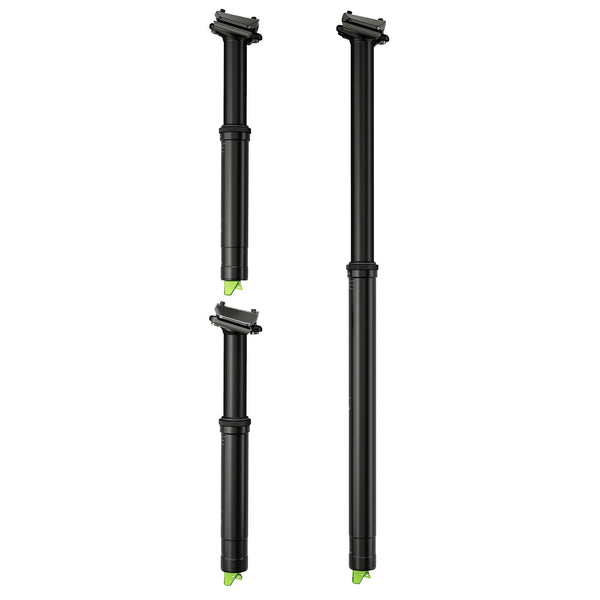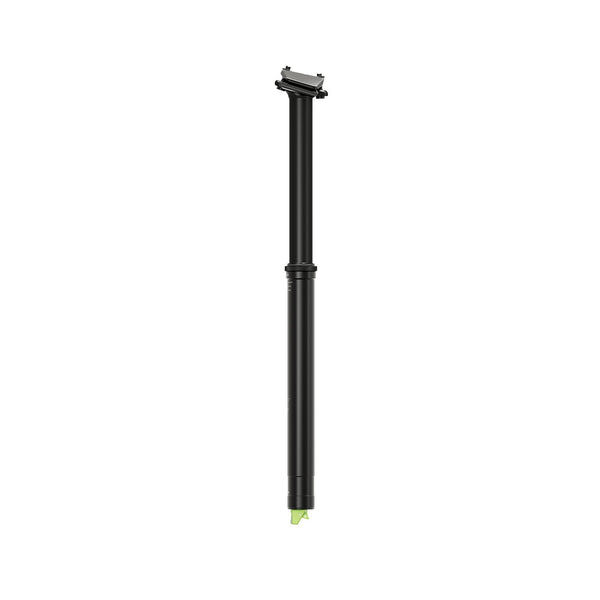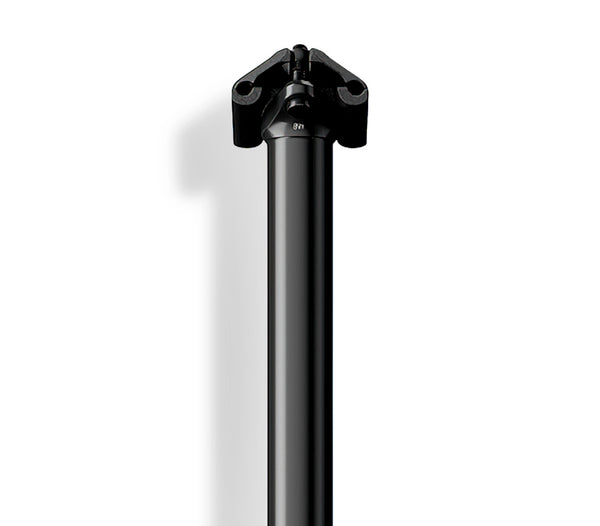 Get the Most Drop.
Our dropper has the most drop, shortest stack height and shortest total length of any other post on the market. No other dropper can get your saddle lower. Use our Dropper Post Length Selector to find your perfect post.
Adustable Travel.
Bikes and riders come in all sizes, so do OneUp droppers. That's why we offer the widest range of dropper post lengths on the market from 70mm to 240mm. Every post can have its travel decreased by up to 20mm, in 10mm increments.
The People's Champ.
Smooth, reliable and a great value. There's more than one reason testers, reviewers, racers and riders consistently rate our Dropper Post "#1", "5-Stars" and "10/10."
Bike Radar
Proven to be exceptionally reliable.
Singletracks
The OneUp dropper post is hard to beat.
MBR | Mountain BIke Rider
One of the best and easily deserves top marks.
Vital MTB
Consistent, flawless performance.
What size of dropper post will fit my bike?

Every rider is different, with different frames and rider inseams, etc. Your best bet is to use our Dropper Post Length Selector. You will need: Your current ride height, the distance from the top of the seat post collar to the middle of your saddle rails. Maximum Frame Insertion measurement. You can find this by inserting a rigid post or tape measure into your frame until it hits an obstruction. Simply plug those into the calculator and we'll give you our recommendation of dropper length based on those measurements.
Will this post be compatible with my existing dropper remote?

If your dropper remote is cable clamping (has a bolt to clamp the cable) then yes, it is compatible with our dropper. If your remote does not have a cable clamp bolt, you can purchase the Dropper cable/nut kit. It comes with a cable bushing that can clamp a cable. With this you can set up any none cable clamping remote.
Are the seat clamps compatible with oval carbon rails?

Yes, our seat clamps are fully compatible with 7x9mm & 7x10mm carbon seat rails.
The actuator doesn't line up front to back, can I change the orientation of the dropper actuator?

The orientation of the actuator is dependant on the threads in the lower tube. This means the actuator orientation, once tightened up, is arbitrary and different on every post. The actuator orientation cannot be changed without rotating the lower tube on the guide pins.
Do you sell replacement upper or lower tubes?

We do not have upper and lower tubes available as single items.
Why is my post slow to extend when I actuate it?

There can be a few different reasons for slow dropper extension. The first checks should always be:


Check seat collar is torqued no higher than 4Nm.

Check post is inflated to 250-300psi in the fully extended position.

Check the cable tension is correct and the cable is not kinked, binding or sluggish.

Check the upper bushing is properly greased and there is no evidence of excessive wear. If your posts continues to extend slowly then please email us at support@oneupcomponents.com and we will help resolve your situation.
Can I change just the lower tube to make my current dropper fit my new bike?

Unfortunately, we do not have lower tubes available for sale.
What grease should I use to service my post?

OneUp droppers should be serviced using a light suspension grease. All droppers come with a small packet of Slickoleum, but any light suspension grease will do the trick. We do not recommend any lubes, including fork boost on our droppers.
I can rotate my seat side to side, is this normal?

Yes, some rotational movement is normal in the our dropper posts. With so many different frames, clamps, tolerances, and ride heights it's not possible to ship play-free, without running the risk of binding, as all dropper posts require keyway clearance. This small amount of movement, although noticeable in the stand, with not be perceivable while riding. If you are finding you have more movement that preferred, or additional movement is developing over time we have the Oversized pin kit to tune this movement out of you post. Most setups do not require the additional spacing of the oversized pins, but we can definitely provide them if required. Please email support@oneupcomponents.com for assistance.
How regularly should I service my dropper post?

It is recommended to do a upper bushing clean and grease every 25hrs or riding, a clean and grease service every 75-100hrs of riding, and a full rebuild every 250-350hrs of riding.